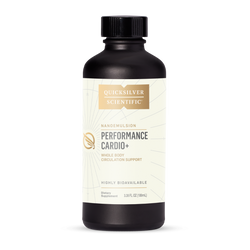 Aging, genetic makeup, food choices, and lack of exercise all play a role in impeding healthy macro and microcirculation and oxygenation throughout the body putting the cardiovascular system at risk.
Performance Cardio+ is an advanced whole-body circulation formula designed to support blood flow and oxygenation to optimise health.
Supports healthy blood circulation throughout the body
Supports energy and athletic performance
Helps maintain healthy sexual function
Supports nitric oxide production
Aids healthy cognition
Combats blood stagnation
Uses proprietary Quicksilver Delivery Systems® technology to create small, stable delivery vesicles (between 20-70 nm) that begin absorbing as soon as they hit the mouth.*
The difference is clear: this product's liquid transparency can only be achieved with nanoparticles that are smaller than wavelengths of light.*
Performance Cardio+ Whole-Body Circulation Support
This product contains an array of time-honored herbs and modern nutraceuticals that have been found to improve macro and microcirculation inside the body.
Supports healthy circulation and oxygenation throughout the body with the "king" of Western cardiovascular herbs, Hawthorn berry, along with the Eastern botanicals Dan Shen, Notoginseng, and Gingko leaf†
Helps maintain healthy nitric oxide signaling and levels with the powerful nutraceuticals L-Citrulline and Gingko extract†
Support healthy aging by managing healthy lipid and glucose levels, and vascular flow with the targeted herbs and plant compounds He Shou Wu, Boswellia, Myrrh, and Cinnamon bark oil†
Take 1 teaspoon by mouth. Hold in mouth for 30 seconds before swallowing. Repeat to desired dosage or as directed by a healthcare professional. Best taken on an empty stomach at least 10 minutes before meals. If pregnant, breastfeeding, or planning to become pregnant, consult your healthcare practitioner before use.
Supplement Facts
Serv. Size: 5 mL (1 tsp.)
Amount  
% Daily 
Serv. Per Container: 20
Per Serv.
Value
Calories
10
Total Carbohydrates
3g
1%
    Total Sugar
0g
Allulose
1g
**
L-Citrulline
100mg
**
Proprietary Blend: Dan Shen root extract (Salvia miltiorrhiza), Hawthorn berry extract (Crataegus monogyna), He Shou Wu (Fo-ti) root extract (Polygonum multiflorum), Ginkgo leaf extract (Ginkgo biloba), Myrrh resin extract (Commiphora myrrha), Ginseng Plus® Panax Notoginseng root extract, Boswellia resin extract (Boswellia Serrata), Cinnamon bark oil
775mg
**
Percent Daily Values are based on a 2,000-calorie diet.

 

**Daily Value Not Established

Other Ingredients:

Water, ethanol, tocofersolan, phospholipids (from sunflower seed lecithin), natural mixed tocopherols, natural flavoring
*These statements have not been evaluated by the Food and Drug Administration. This product is not intended to diagnose, treat, cure or prevent any disease.

Information provided by this website or this company is not a substitute for individual medical advice. | ©Pureraw Products Limited 2022