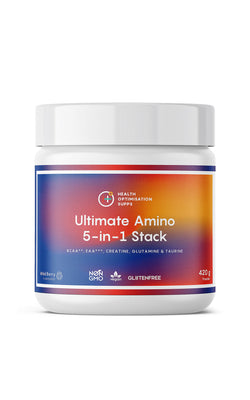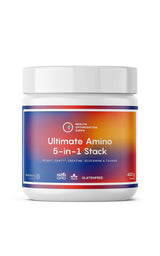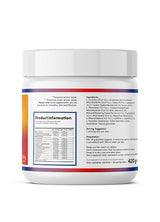 Ultimate Amino 5-in-1 Stack
A precision blend of Amino Acids and minerals that aims to boost focus, improve energy, and experience faster muscle recovery with this. Completely vegan, naturally fermented, and free of all nasties, including artificial sweeteners, colours or flavourings. This clean blend of amino acids and minerals is designed to optimise your focus so you perform better mentally, Boost energy levels so you no longer wake up feeling lethargic, and aid muscle recovery to support athletic performance.
Essential & branched chain amino acids can help with:
Improved focus, clarity, and mental stamina
Maintenance of proper hydration levels and improved nerve transmission
Enhanced muscle growth and maintenance of mass
Decreased muscle soreness (DOMS) and post-workout recovery time
Increased strength and endurance during activity
Helps to strengthen immune function and intestinal health
Supports phase II liver detoxification
Sustainably boosts energy levels
Amino acids, often referred to as the building blocks of proteins, are compounds that play many critical roles in your body, and are needed for vital processes like the building of tissues and synthesis of hormones and neurotransmitters. Unlike nonessential amino acids, essential amino acids can't be made by your body and must be obtained through food, but getting adequate amounts of each purely through diet can be challenging.
Unlike most amino blends that come from non-organic questionable animal-based sources, Ultimate Amino 5-in-1 stack is 100% plant-based, free of filler powders, and designed for maximum nutrient-absorption. It aims to provide your body with the essential building-blocks it needs to function optimally. Health Optimisation Supplements' motto is "health before profits", meaning they've gone the extra mile to hand-pick and third-party test all ingredients to assure they're delivering a top-quality, health-first product without cutting corners.
As a result, every milligram you take is 100% pure and also:
Non GMO

No Sugar or Artificial Sweeteners, Flavours, Colours, Preservatives, or Fillers

No Gluten, Soy, Dairy, Antibiotics, or Synthetics Growth Hormones
Not only is their Ultimate Amino Stack designed to have more bioavailability than its animal-based counterparts, it also aims to boost anabolism—helping provide the precursors to boost your neurotransmitters in the morning, and also to help you recover more quickly after physical and mental exertion.
Contains:
Clean BCAA to help prevent muscle breakdown and reduce fatigue
EAA to help prevent muscle loss and improve recovery
Creatine to help boost strength and cognitive capacity
Glutamine to help promote muscle growth and improve intestinal health
Taurine to help skyrocket your energy and metabolism
10g of high-quality protein
INGREDIENTS
L-Leucine (20,4 %); L-Glutamine (16,3 %); Creatine Monohydrate (12,3 %); L-Valine (9,2 %); L-Isoleucine (9,2 %); L-Lysine Hydrochloride (6,8 %]; Taurine (4,2 %); L-Threonine (3,3 %); L-Cysteine Hydrochloride Monohydrate (3,3 %); Beta-Alanine (3,3%); Natural Flavoring Forest Berries (2,6 %); L-Tryptophan (2,5 %); L-Methionine (2,4 %); Magnesium Malate (1,1%); L-Phenylalanine (1,1 %); L-Ornithine-L-Aspartate (1,1 %); L-Tyrosine; Sweetener: Xylitol; Salt; Beet Root-Extract: Sweetener: Steviol glycosides.
Serving Suggestion: 1 serving size per day. Each tub contains a 30-day supply.
SUGGESTED USE 
Mix 14g powder (approx. 3 measuring spoons, measuring spoon is provided) with 300ml water per day.
Keep out of reach of children. Do not exceed recommended dose. This product is a food supplement and is not a replacement for a healthy and balanced diet and/or lifestyle. If you are undergoing treatment for a medical condition or if you are pregnant or lactating, please consult your medical practitioner first.
*The above statements have not been evaluated by the Food and Drug Administration. This product is not intended to diagnose, treat, cure or prevent any disease.

Information provided by this website or this company is not a substitute for individual medical advice. | ©Pureraw Products Limited 2022