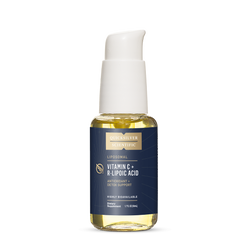 Vitamin C is very effective in removing lead and other heavy metals from our system and fighting off the free radicals that form in the liver during the first phase of detoxification. R-Lipoic acid (as sodium R-Lipoate) has an exceptionally well-documented ability to upregulate the glutathione system via the Nrf2 nuclear transcription pathway. This combination of Vitamin C and R-Lipoate in a nanoliposomal delivery potently harnesses the potential of Vitamin C to the power of a fully-functioning glutathione system.
Our Quicksilver Delivery Systems improve upon liposomal and emulsification technology with smaller, more stable particles made from the highest-grade ingredients available. In addition to exceptional absorption rates, these very small liposomal and nanoemulsified particles enhance lymphatic circulation of nutrients and intracellular delivery. The phospholipids, inherent in the liposomal and nanoemulsified formats, nourish cell membranes, promoting proper function for the absorption of nutrients and the excretion of cellular waste products and toxins.
Supplement Facts

Serving Size: 2ml (4 pumps)

Servings Per Container:

 25
 

Amount Per Serving

%Daily Value

Sodium

65mg
2.7%

Quali™- C Vitamin C (from sodium Ascorbate)

500mg
833%

Sodium R-Lipoate

25mg
**

Phosphatidylcholine

(from purified soybean lecithin)

157mg
**
† Daily Value not established.
Other Ingredients: Water, Glycerin, Ethanol, Natural Citrus Oils
Suggested Use: Take 2 pumps by mouth twice daily. Hold in mouth 30 seconds before swallowing. Repeat to desired dosage or as directed by healthcare professional. Take on empty stomach, at least 10 minutes before meals. May be stirred into small amount of water. Topical use: Apply a thin layer to clean skin (avoiding eyes) and leave on for at least 10-15 minutes.
If pregnant, consult a physician before use.
Refrigerate upon receipt. Use within 30 days of opening.
These statements have not been evaluated by the Food and Drug Administration. This product is not intended to diagnose, treat, cure, or prevent any disease.