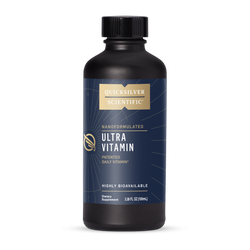 Ultra Vitamin is the ultimate multi-vitamin blend. It combines the Quicksilver Scientific Methyl B Complex with vitamins A, C, D3, E, and K2. The list doesn't stop here, as the carotenoids lutein, zeaxanthin, and lycopene, and vitamin E in the form of tocotrienols are also included. This comprehensive formulation is brought together in a liposome-nanoemulsion hybrid, enabling rapid intraoral absorption, increasing bioavailability to the bloodstream, and delivering these nutritional compounds intracellularly.* In addition to meeting your nutritional multi-vitamin needs in a highly bioavailable format, the additional tocotrienols and carotenoids included in Ultra Vitamin enhance the antioxidant protection offered by this formula. Tocotrienols have superior antioxidant properties, support cholesterol balance, and exhibit neuroprotective properties not observed with tocopherol forms of vitamin E.* The inclusion of the carotenoids lutein, zeaxanthin, and lycopene broaden the spectrum of antioxidant action, possibly in part by activating Nrf2, a cellular regulator of antioxidant production.* Milk thistle is also included to enhance bile flow and support hepatic detoxification reactions that B vitamins may induce.*
The activated form of B2 (riboflavin 5'-phosphate) with B6 (pyridoxine hydrochloride), folate (as folinic acid), methylated B12 and trimethylglycine provide the factors necessary for healthy methylation processes without creating "methyl traps" or hypermethylation symptoms.* Folinic acid, a tetrahydrofolic acid derivative, provides a form of folate which circumvents genetic issues that affect folate transport or metabolism.*
Quicksilver Delivery Systems™ optimises bioavailability of Ultra Vitamin with the liposomal-nanoemulsion delivery format, enabling rapid absorption orally and via the lymphatics, as well as enhanced cellular delivery. The essential phospholipids delivered in this format nourish the membranes of the cells, ensuring proper function for the absorption of nutrients and the excretion of cellular waste products and toxins.
Supplement Facts

Serving Size:

 5.0ml (1 Tablespoon)

Servings Per Container:

 20
 

Amount Per Serving

%Daily Value

Vitamin A (14% as Beta-Carotene)

7890 IU
157%

Vitamin B1 (Thiamine Hydrochloride)

12.5mg
833%

Vitamin B2 (as Riboflavin 5'-Phosphate)

7.5mg
441%

Vitamin B3 (as Niacin and Niacinamide)

10mg
50%

Vitamin B5 (as Calcium d-Pantothenate)

25mg
250%

Vitamin B6 (as Pyridoxine Hydrochloride)

7.5mg
375%

Vitamin B7 (Biotin)

500mcg
166%

Vitamin B9 (as Folinic Acid)

500mcg
125%

Vitamin B12 (as Methyl Cobalamin)

500mcg
8333%

Vitamin C (as sodium ascorbate)

120mg
200%
Vitamin E
34mg
56%

Vitamin K2

45mcg
50%

Betain Anhydrous (Trimethylglycine)

25mg
**

Tocotrienol

24mg
 

Lutein

3.4mg
**

Zeaxabthin

680mcg
**

Lycopene

1.275mg
**
** Daily Value not established.
Other Ingredients: Water, Glycerin, Ethanol, Vitamin E (as tocofersolan and natural mixed tocopherols), Phospholipids (from purified sunflower lecithin), Milk Thistle Extract, EDTA (as preservative), Natural Citrus Oil, and Natural Flavoring.
How To Use: Take 1 teaspoon by mouth once daily. Hold in mouth 30 seconds before swallowing. Repeat to desired dosage or as directed by healthcare professional. Take on empty stomach, at least 10 minutes before meals. May be stirred into small amount of water.
If pregnant, consult a physician before use.
Store this product at room temperature. Use within 30 days of opening.
These statements have not been evaluated by the Food and Drug Administration. This product is not intended to diagnose, treat, cure, or prevent any disease.