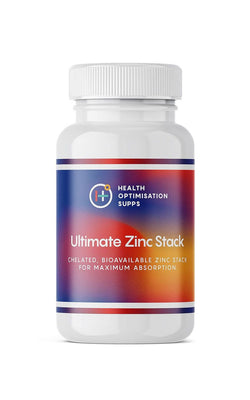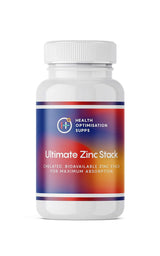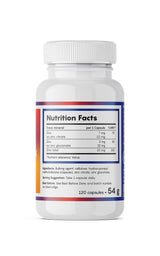 120-Day supply of The Ultimate Zinc Stack
Chelated zinc citrate & gluconate for immune and antioxidant support. Enhance your energy, libido, mood, and resilience with our immune-boosting Ultimate Zinc Stack.
Zinc is known to help:
Keep your immune system strong and reduce your risk of infections
Lower inflammation and reduce the risk of heart disease and diabetes
Improve brain function, mood and libido
Boost your energy levels and decrease fatigue
Accelerate wound healing, tissue repair, and muscle recovery post-workout
Aid with nutrient absorption and assists breakdown of carbohydrates
Support vision and eye health
Improve the appearance of acne, maintain clear skin and a healthy complexion
Some of the common symptoms of zinc deficiency may include:
Frequently getting sick
Loss of appetite
Allergies
Muscle cramps
Diarrhoea
Slowed wound healing
Acne and rashes
Hormonal problems
Tiredness and fatigue
Thinning hair
White spots on nails
If you're at risk of getting inadequate amounts of zinc due to a plant-based diet, lead an incredibly active lifestyle, or are simply looking to boost your immunity during times of stress or illness, supplementation may be beneficial for you.
Research has shown zinc to have numerous health benefits:
Improved immunity: Zinc helps control inflammation and prevent elevated inflammatory responses, including the release of cytokines and damage to tissues. It activates immune T cells that are responsible for attacking and destroying any pathogens that enter your body.
Reduced risk of infections: When taken consistently, zinc may reduce your risk of catching a common cold — and supplementing with it when you feel a cold coming on may speed up the healing process.
Reduced inflammation and risk of chronic disease: Zinc decreases oxidative stress and levels of certain inflammatory proteins in your body. Oxidative stress is a cause of chronic inflammation which is a contributing factor in many chronic illnesses such as heart disease and metal decline.
Balanced hormones & improved fertility: Zinc has an important role in hormone production, including growth hormone, insulin, leptin, thyroid hormone, melatonin and sex hormones. It can increase serum testosterone in men, thus improving libido and supporting prostate health. In women zinc supports healthy development of the egg and regular ovulation.
Clear & healthy skin: Due to zinc's anti-inflammatory quality and potential to kill acne-causing bacteria it has been found to be effective as a natural way to reduce the severity of acne by up to 30%. It also supports the production of collagen needed for skin repair and growth, making it helpful for people recovering from burns and slow-healing wounds.
Muscle growth & repair: Zinc may help boost muscle mass and strength due to its ability to increase serum testosterone. Furthermore, it supports cell growth and division which is essential for muscle growth and repair following injury.
Eye health: A large quantity of zinc is stored in the eyes. It works together with vitamin A to support the health of the retina, helping the eyes to sense light, and reducing the risk of age-related eye conditions, such as macular degeneration.
Independently Tested for Quality and Purity
Ultimate Zinc Stack is pure, potent and so clean you won't need to check the label. We take extra care to source the highest quality ingredients possible and to never include any nasties and unnecessary additives. 
As a result, every capsule you take is 100% pure and also:
Chelated zinc gluconate & zinc citrate for optimal absorption
Vegan friendly 
No titanium dioxide

No magnesium stearate
No Junk or Fillers, GMO Free

No Sugar or Artificial Sweeteners
No Artificial Flavors, Colours, or Preservatives
No Antibiotics, Synthetics, or Growth Hormones
No Gluten, Soy, and Dairy (Keto and Paleo Friendly)
INGREDIENTS
Zinc as zinc citrate, Zinc as zinc gluconate, bulking agent: cellulose; hydroxypropyl methylcellulose (capsule); zinc citrate; zinc gluconate.
SUGGESTED USE 
Take 1 capsule daily. 
Keep out of reach of children. This product is a food supplement and is not a replacement for a healthy and balanced diet and/or lifestyle. If you are undergoing treatment for a medical condition or if you are pregnant or lactating, please consult your medical practitioner first.
*The above statements have not been evaluated by the Food and Drug Administration. This product is not intended to diagnose, treat, cure or prevent any disease.

Information provided by this website or this company is not a substitute for individual medical advice. | ©Pureraw Products Limited 2022