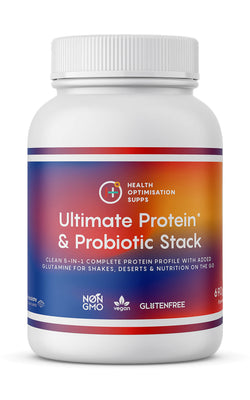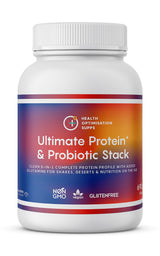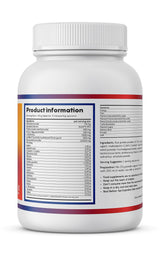 Ultimate Protein + Probiotic Stack
30-Day supply of Ultimate Protein and Probiotic Stack
Delicious plant-based protein with probiotics formulated to nourish your muscles, as well as your gut.
Designed to support digestion and healthy weight maintanence
Rebuild and repair your gut microbiome
Boost your immune system
Aid faster recovery and muscle growth as it includes glutamine
Be easier to digest than any other protein on the market
100% natural ingredients with no fillers and additives
Use it as a post-workout shake, a meal replacement, or simply as a mouth-watering (but healthy) dessert.
Four products in one scoop:
1. Plant-based protein of the highest quality
Health Optimisation Supplements used highly bio-available brown rice protein in combination with a full amino acid profile to create a plant-based formula that can compete with animal-based products (including whey).
2. Glutamine
The most abundant amino acid, it can help with the production of fast-growing tissue like muscles or enterocytes, potentially leading to faster recovery.
3. Six different strains of probiotics
Added probiotics don't just help to make the product more bio-available and easier to digest, but also help improve your gut health and therefore can help with immunity, energy levels, inflammation, etc.
4. The most potent prebiotics
Other than serving as 'food' for probiotics, FOS, Psyllium Husk, Sunfiber®, Maltodextrin, and Raw Cacao can also help with detoxification and lowering of cholesterol.
Enhance your gut health with every sip
The gut microbiome affects the body more than most people realise, by controlling the digestion of food, immune system, central nervous system, and other bodily processes. By taking this formula daily, you may significantly improve your gut health and could therefore experience health benefits such as:
Improved mood and brain function
Reduced risk of heart disease
Better immunity
Healthy weight maintenance
Due to its nice flavour and an endless list of health benefits it brings to the table, you can also use it as a meal replacement, a healthy snack, or a "medical shake" to help support your gut with all the raw materials it needs to function properly.
INGREDIENTS
Amylase powder, Bacterial cultures, Psyllium husks seed powder, Fructo-Oligosaccharide, L-Glutamine, Sunfiber® (partially hydrolysed Guar gum), Rice protein powder
Providing:
Arginin, Aspartic acid, Cysteine + Cystine, Glutamine acid, Glycine, Histidine, Hydroxyproline, Isoleucine, Leucine, Lysine, Methionine, Ornithine, Phenylalanine, Proline, Serine, L-Threonine, Tyrosine, Valine
As a result, every milligram you take is 100% pure and also:

No Junk or Fillers or GMO
No Sugar or Artificial Sweeteners
No Artificial Flavors, Colors, or Preservatives
No Antibiotics, Synthetics, or Growth Hormones
No Gluten, Soy, and Dairy (Keto and Paleo Friendly)
SUGGESTED USE 
Mix 23g powder (approx. 3 measuring spoons per day, measuring spoon is provided) with 250ml of water, rice milk or almond milk.
Keep out of reach of children. Do not exceed recommended dose.
This product is a food supplement and is not a replacement for a healthy and balanced diet and/or lifestyle. If you are undergoing treatment for a medical condition or if you are pregnant or lactating, please consult your medical practitioner first.
*The above statements have not been evaluated by the Food and Drug Administration. This product is not intended to diagnose, treat, cure or prevent any disease.

Information provided by this website or this company is not a substitute for individual medical advice. | ©Pureraw Products Limited 2022