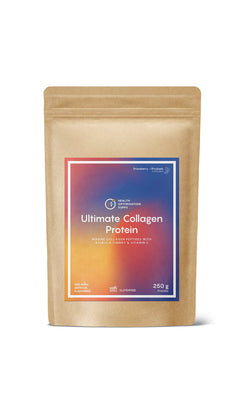 Ultimate Collagen Protein
30-Day supply of Ultimate Collagen Protein
Find out why they call it the 'Fountain of Youth' it's not just about building muscle. Switch to collagen protein and watch as it improves your skin, strengthens your bones, and nourishes your hair.
Collagen is the most abundant protein in the body, constituting 70% of the protein in our skin, 30% of total protein in the body, and being one of the primary structural proteins in joints, bones, cartilage, ligaments, tendons, hair, fingernails, and the intestinal wall. Simply put, collagen is said to be the "glue" that holds your body together:
Supports Skin Health:

 

Collagen peptides help promote the appearance of firm, smooth, young-looking skin, and can help reduce the appearance of fine lines and wrinkles.
Builds Strong Bones, Joints & Muscles:

 

Collagen peptides also support healthy bones and joints by reducing stiffness and helping build both bone and muscle mass, helping to keep our musculoskeletal system resilient as we age.
Improves Hair Health:

 

Collagen peptides are present in hair follicles, so supplementation can help promote
Improves Nail Strength:

 

Lack of collagen can contribute to brittle, cracked nails, therefore supplementation can accelerate nail growth and improve the strength and quality of your nails.
Repairs Gut Lining:

 

Lastly, collagen peptides can help repair the function of tight junctions proteins, restoring gut permeability and allowing for better digestive health.
Instead of using collagen from beef leather, we searched for a 100% natural, clean and sustainable source. Our collagen comes from Norwegian wild-caught cod and is prepared on-site. As a result, every milligram you take is 100% pure and also:
No Junk or Fillers
No Sugar or Artificial Sweeteners
No Artificial Flavors, Colors, or Preservatives
No Antibiotics, Synthetics or Growth Hormones
No Gluten, Soy, and Dairy (Keto and Paleo Friendly)
With the Ultimate Collagen Protein, you know exactly what you are taking.
SUGGESTED USE 
1 serving size per day. Mix 5g powder (approx. 2 teaspoons per day) with 150mL of cold water, rice milk or almond milk.
Keep out of reach of children. Do not exceed recommended dose. This product is a food supplement and is not a replacement for a healthy and balanced diet and/or lifestyle. If you are undergoing treatment for a medical condition or if you are pregnant or lactating, please consult your medical practitioner first.
*The above statements have not been evaluated by the Food and Drug Administration. This product is not intended to diagnose, treat, cure or prevent any disease.

Information provided by this website or this company is not a substitute for individual medical advice. | ©Pureraw Products Limited 2022