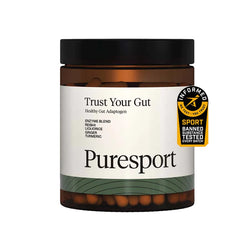 ADAPTOGENIC MUSHROOM | TRUST YOUR GUT
Trust Your Gut | 60 capsules
The Gut is the foundation of health.
This formulation combines Reishi Mushroom ( nature's profound good-gut ingredient) with a Digestive Enzyme Blend, Liquorice Root, Turmeric + Ginger.
This forward-thinking blend is designed to help support your gut microbiome (responsible for energy, immunity, skin, appetite + mood), and can help ease the uncomfortable symptoms of poor digestion.
DIGESTIVE ENZYME BLEND
This blend of 8 digestive enzymes can help break down and distribute the energy from food to the rest of your body. By optimising the speed and functionality of your gut to do this, your body is supported to deal with bloating, IBS, and other digestive issues.
REISHI MUSHROOM
Reishi is an adaptogenic mushroom which has been found to help positively alter the bacteria in your gut. This supports a healthy gut microbiome which is responsible for your energy levels, mood, hormonal balance, and brain-messaging.
LIQUORICE ROOT
High in a chemical compound called 'flavonoids' which are understood to interact with your gut to help support healthy metabolism, digestion and immunity.
GINGER
Found to be rich in compounds to help support the production of (good) bacteria in the gut microbiome. Ginger is understood to contain properties which can help a healthy immune system and has been trusted for centuries to help deal with an upset stomach.
TURMERIC
Understood to contain antioxidants compounds which can support the body in reducing symptoms of bad digestion, including bloating and stomach pain.
Puresport Cordyceps Capsules are tested by the world-famous testing lab, Informed Sport, who certify products for usage by drug-tested athletes and professionals. Informed Sport stringently tests formulations to ensure they are free from over 1200 banned substances, and are fully WADA compliant, making them safe for everyone - from beginners to pros.
How to use : Take 2 capsules with water daily. Best taken in the morning 30 minutes before food. Do not exceed recommended dosage.
Ingredients
 : Digezyme®Enzyme Blend ( α-Amylase, Protease, Lactase, Lipase, Cellulase), Reishi (Ganoderma lucidum) Mushroom extract, Ginger extract, Turmeric extract, Liquorice extract, Bulking Agent (Microcrystalline Cellulose), Slow-release Clear capsule shell (HPMC, Water, Gellan Gum, Potassium Acetate), Anti-caking agent (Magnesium Stearate).
Here at PURERAW we do the work for you, every product goes through a 3 step curation process including expert validation and community testing. So you know you are only getting the best.