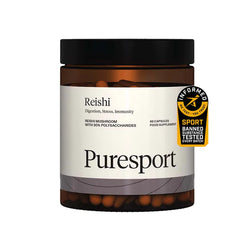 ADAPTOGENIC MUSHROOM | RECOVERY REISHI
Reishi Mushroom Capsules | 60 capsules
Reishi has adaptogenic properties, meaning it can work with your brain to help handle and adapt to cortisol (the 'stress' hormone). Reishi can also help support NREM and REM sleep stages to help you drift off faster and wake up more refreshed. These are key sleep-stages where your body produces Growth Hormones to help recover and repair cell damage. Reishi can also interact with the gut microbiome, supporting your well-being from the inside out. 
Enhances sleep




Supports gut health




Helps reduce stress
Puresport Cordyceps Capsules are tested by the world-famous testing lab, Informed Sport, which certify products for usage by drug-tested athletes and professionals. Informed Sport stringently tests formulations to ensure they are free from over 1200 banned substances, and are fully WADA compliant, making them safe for everyone - from beginners to pros.
How to use : 
Take 2 capsules daily with water. 
Each serving (2 capsules) contains 9000mg of Reishi Mushroom. Do not exceed recommended dosage.
Ingredients
 : 
Ganoderma lucidum (Reishi) Mushroom extract, Bulking Agent (Microcrystalline Cellulose), Clear capsule shell (HPMC, Water, Gellan Gum, Potassium Acetate), Anti-caking agent (Magnesium Stearate).
Here at PURERAW we do the work for you, every product goes through a 3 step curation process including expert validation and community testing. So you know you are only getting the best.