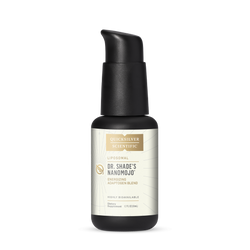 Quicksilver Scientific and Sun Horse Energy teamed up to create the world's first liposomal adaptogenic formula: NanoMojo. Paired with the therapeutic and penetrating liposomes of Quicksilver Delivery Systems™, the 20 adaptogenic herbs of Sun Horse Energy more effectively support everything from stamina and strength to immune function and mood.
Supplement Facts

Serving Size:

 1ml (2 pumps)

Servings Per Container:

 50
 

Amount Per Serving

%Daily Value

Phosphatidylcholine 

(from purified sunflower seed lecithin)
60 mg
**

SunHorse Proprietary 

Adaptogenic Herbal Blend: Gynostemma (aerial parts)(Jiaogulan); Lycium (fruit)(Himalayan Goji); Maca (root); American Ginseng (root); Siberian Ginseng (root); Schisandra (fruit); Chinese Licorice (root); Rhodiola (root); Astragalus (root); Reishi (fruiting body); Catuaba (bark); Stinging Nettle (aerial parts); Saw Palmetto (fruit); Guarana (seed); Ashwagandha (root); Tribulus (aerial parts); Epimedium (aerial parts);Yohimbe (bark); Organic Maple (sap) Syrup
174mg
**
** Daily Value not established.
Other Ingredients: Water, Glycerin, Ethanol, Acacia gum, Vitamin E (as tocofersolan and natural mixed tocopherols)
How To Use: Take 2 to 4 pumps by mouth twice daily. Hold in mouth 30 seconds before swallowing. Repeat to desired dosage or as directed by healthcare professional. Take on empty stomach, at least 10 minutes before meals. May be stirred into small amount of water.
If pregnant, consult a physician before use.
Store this product at room temperature. Use within 60 days of opening.
These statements have not been evaluated by the Food and Drug Administration. This product is not intended to diagnose, treat, cure, or prevent any disease.