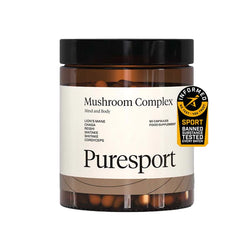 NOOTROPIC | MUSHROOM COMPLEX
Mushroom Complex Nootropic Capsules | 60 capsules
Innovative, world-leading mushroom capsules combine six adaptogenic mushrooms which synergistically help to catalyse the power of the mind by helping to help find your focus, and support long-term brain health.
This revolutionary supplement is leading the wellness world into the formerly forgotten potential of adaptogenic mushrooms for the brain and body.
LIONS MANE
Lion's Mane is an adaptogenic mushroom, meaning it contains properties that can positively interact with messaging in the brain. These messages help control internal signaling linked to energy and focus.
CHAGA
An adaptogenic mushroom containing properties that can help optimise the way the brain deals with the emotional symptoms of stress. This supports your body and brain, helping to gain focus and an increased sense of clarity.
REISHI
Reishi is an adaptogenic mushroom that has been found to help positively alters the bacteria in your gut. This supports a healthy gut microbiome which is responsible for your energy levels, emotions, hormonal balance, and brain-messaging.
MAITAKE
Contains adaptogenic properties believed to work synergistically with the neurotransmitters in your brain. These play a role in controlling symptoms of brain fog, helping you find a sense of clarity and focus.
SHIITAKE
Found to be rich in beta-glucans which help protect and enhance your immune system and can contribute towards good gut health.
Puresport Mushroom Complex Capsules are tested by the world-famous testing lab, Informed Sport, which certifies products for usage by drug-tested athletes and professionals. Informed Sport stringently tests formulations to ensure they are free from over 1200 banned substances, and are fully WADA compliant, making them safe for everyone - from beginners to pros.
How to use : 
Take 2 capsules daily with water. 
Do not exceed recommended dosage.
Ingredients : 
Shiitake (Lentinula Edodes) Mushroom Extract, Maitake (Grifola Frondosa) Mushroom Extract, Lion's Mane (Hericium Erinaceus) Mushroom Extract, Cordyceps (Ophiocordyceps Sinensis) Mushroom Extract, Chaga (Inonotus Obliquus) Mushroom Extract, Bulking Agent (Microcrystalline Cellulose), Clear Capsule Shell (HPMC, Water, Gellan Gum, Potassium Acetate), Anti-caking Agent (Magnesium Stearate).
Here at PURERAW we do the work for you, every product goes through a 3 step curation process including expert validation and community testing. So you know you are only getting the best.