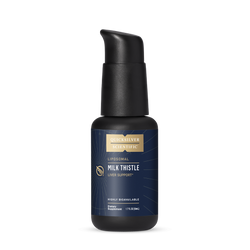 Can support and protect the liver
Can help maintain healthy digestion
Can support bile flow
Can protect the body's master antioxidant, glutathione
Milk thistle, or Silybum marianum, has been utilised worldwide for over 2,000 years for its remarkable ability to protect and support the liver and can aid healthy digestive function.
Milk thistle contains three phytonutrients (silybin, silydianin, and silychristin) together known as silymarin. Silymarin may prevent the absorption of toxins into the liver's cells. It can support healthy digestive function and bile flow, and can help protect the body's stores of glutathione, our primary endogenous antioxidant.
Because the key constituent of silymarin, silybin, has poor bioavailability in a typical oral formulation, Dr. Christopher Shade, PhD, developed our nanoemulsified Milk Thistle. The extract is encapsulated in tiny, highly absorbable liposomes. The result is a formula with rapid uptake and optimal cellular delivery.
Quicksilver Delivery Systems® utilises modern science to unleash the curative power of nature. With the world's most advanced phospholipid delivery systems, Quicksilver Scientific supplements actually nourish your cells with phosphatidylcholine as they deliver their core effective ingredients faster and more efficiently.
Each 2 mL of Nanoemulsified Milk Thistle delivers 30 mg of milk thistle extract (80% Silymarin). A serving size is 4 pumps. Each bottle contains 25 30-mg servings.
If pregnant, consult physician before use. Use within 60 days of opening.
These statements have not been evaluated by the Food and Drug Administration. This product is not intended to diagnose, treat, cure, or prevent any disease.