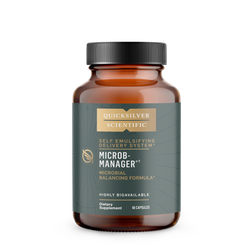 Balances microbes systematically
Promotes a healthy inflammatory response
Maintains liver and immune function
Groundbreaking Softgel delivery system offering rapid absorption
Microb-Manager is a blend of targeted botanicals that support a healthy microbial balance throughout the entire body. Artemisinin is the primary active ingredient in Artemisia annua, a bitter botanical with a long history of use in Traditional Chinese Medicine. Artemisinin is combined with berberine and broad spectrum hemp extract to activate cellular pathways that target certain microbes. These botanicals impact even the hardiest systemic bacteria, viruses, fungi, and parasites, supporting both acute and chronic microbial imbalance.
Curcuminoids and boswellia extract work synergistically to soothe over-reactivity caused by microbial imbalance. Milk thistle supports liver function, while quercetin stabilises mast cells, helping balance the histamine response to microbes.
Andrographis is a cornerstone of the TCM herbal compendium, revered for its immune-supporting properties. Propolis, a fragrant resin produced by honeybees, supports the "immune system" of the hive and our own well-being! These ingredients round out our formula, creating a resilient terrain within your body.
Artemisinin, berberine, phytocannabinoids, curcuminoids, and boswellia typically have low bioavailability, limiting their clinical utility. Our softgel delivery system offers an innovative solution to this problem by delivering ingredients in a softgel that emulsifies upon contact with your digestive system juices. In a matter of minutes, the softgel contents are rapidly transported across your gut and into your bloodstream, offering timely support for systemic microbial balance.
Store this product at room temperature. Do not refrigerate. Use within 60 days of opening.

If pregnant, consult a physician before use.
These statements have not been evaluated by the Food and Drug Administration. This product is not intended to diagnose, treat, cure, or prevent any disease.