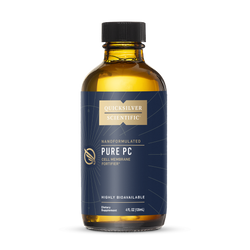 May replenish all cell membranes
Can help metabolise cholesterol and fat
Can support cognitive function
Can support liver detoxification
When cell membranes are damaged, the cell cannot perform properly. Phosphatidylcholine—the primary lipid composing all cell membranes—is the simplest and most effective answer to replenishing and restoring cell membrane function.
Phosphatidylcholine (PC) is the primary lipid that composes and nourishes the cell membranes in your body—including the membranes of your energy-producing mitochondria, the 'batteries' of every cell. An intact, functional membrane is essential to cellular health, and that membrane can be damaged by infections, oxidative stress and toxins.
In its utter simplicity, PC helps replenish the cell membrane and thus can benefit health. PC is also an emulsifier necessary for fat and cholesterol metabolism and liver detoxification. In addition, the choline in PC is important for neurocognitive health. It is a building block for a neurotransmitter associated with attention and alertness—acetylcholine.
Though PC when taken orally is well absorbed, Dr. Chris Shade dramatically enhanced absorption via the micellized liposomal formulation. PC is micellized into extremely small droplets that are easily absorbed into the bloodstream, and the liposomal formulation has the ability to deliver nutrients directly to the cell membrane where they are needed.
Quicksilver Delivery Systems® utilises modern science to unleash the curative power of nature. With the world's most advanced phospholipid delivery systems, Quicksilver Scientific supplements can help to nourish your cells with phosphatidylcholine as they deliver their core effective ingredients faster and more efficiently.
Each 5 mL of Micellized Pure PC delivers 700mg of phosphatidylcholine. A serving is 1 teaspoon. Each bottle contains 24 servings.
If pregnant, consult a physician before use.
Store this product at room temperature. Use within 60 days of opening.
These statements have not been evaluated by the Food and Drug Administration. This product is not intended to diagnose, treat, cure, or prevent any disease.