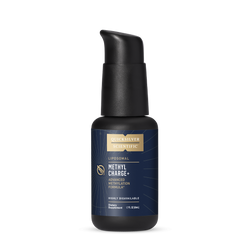 Next-Generation Methylation Support

Keep the wheels of your methylation cycle turning efficiency. This methylation support formula can be used on its own for undermethylators, paired with NAD+ Gold®, or alongside detox and heathy aging protocols.*
Support for Undermethylators – Methyl Charge+™ addresses the needs of undermethylators with a thoughtful blend of four key B vitamins: folate, vitamins B2, B6, and methyl B12, along with TMG.
Pair with Quicksilver Scientific NAD+ Gold® – Pairing Methyl Charge+™ with your NAD+ boosting supplement ensures that NAD+ and methylation cycles are fully supported, especially for healthy aging protocols.*
Unsurpassed Absorption + Efficacy – State-of-the-art liposomal delivery offers quick uptake through the cells of the mouth and directly into the bloodstream for fast-acting effects you can feel.      
Serv. Size: 1 mL (2 Pumps)
Amount
Daily
Serv. Per Container: 50
Per Serv.
Value
Riboflavin (as Riboflavin-5-Phosphate)
10mg
769%
Vitamin B-6 (as Pyridoxine HCI)
1mg
59%
Folate (as Calcium Folinate)
850mcg DFE
213%
Vitamin B-12 (as Methylcobalamin)
500mcg
20833%
Trimethylglycine (betaine)
75mg
**
**Daily Value (DV) not established
Other Ingredients:

Water, Glycerin, Ethanol, Vitamin E (as Tocofersolan and Natural Mixed Tocopherols), Phospholipids (from purified sunflower seed lecithin), EDTA (as preservative), Natural Citrus Oils, Cinnamon Bark Oil, Natural Flavouring
Take 2 pumps by mouth. Hold in mouth 30 seconds before swallowing. Repeat to desired dosage or as directed by a healthcare professional. Take on an empty stomach, at least 10 minutes before meals. Use within 90 days of opening. If pregnant, consult a physician before use.
*These statements have not been evaluated by the Food and Drug Administration. This product is not intended to diagnose, treat, cure or prevent any disease.