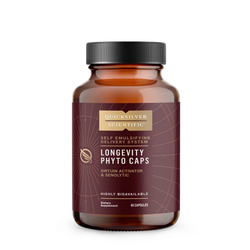 Biological aging is a natural progression where cellular processes and tissues begin to deteriorate over time resulting in age-related health declines.*
Longevity Phyto Caps is an anti-aging formula specifically designed to support healthy aging by facilitating better cellular function, clearance of damaged cells, and stimulation of longevity pathways. Each two-capsule serving provides a curcuminoid complex, quercetin, resveratrol, and trans pterostilbene in our highly bioavailable SEDS delivery technology for fast and efficient absorption of ingredients.*
Aids cellular longevity and function*
Supports a healthy inflammatory response*
Helps activate sirtuins – longevity genes that support DNA integrity and healthy cellular processes*
Supports autophagy and clearing of senescent "zombie" cells – old cell parts and dysfunctional cells*
An ally in mitochondrial biogenesis and the actions of NAD+*
Antioxidant support*
Helps in daily detoxification*
Offers fast and effective absorption of ingredients using our SEDS (self-emulsifying delivery system) technology*
Clean. Bioactive. Ingredients.
Curcuminoid Complex – Turmeric Oleoresin and Turmeric Oil
Turmeric oleoresin is an extract of the bright gold turmeric root, Curcuma longa, and contains both curcumin and turmeric essential oil. Curcumin demonstrates potent sirtuin-activating properties in clinical research. It is shown to enhance the expression of a sirtuin known as SIRT1, which alleviates damage induced by beta-amyloid, a malformed protein involved in the pathogenesis of brain-related disease.
Quercetin
Quercetin is a versatile phytonutrient that has been shown to support several aspects of healthy aging. A powerful antioxidant, quercetin has been shown to be a strong regulator of immune activity and AMPK activation, both important aspects of healthy aging. In the longevity space, research shows that quercetin supports energy via mitochondrial biogenesis and cellular health and integrity through autophagic and cellular senescent activity.
Resveratrol
Resveratrol is another powerful antioxidant that supports healthy energy levels through NAD+ production and mitochondrial biogenesis. In the presence of NAD+ and resveratrol, longevity genes called sirtuins are activated. Sirtuins are cellular proteins that regulate numerous vital cellular functions including inflammation modulation, energy metabolism, neuronal function, stress resistance, and healthspan.
Pterostilbene
Pterostilbene is one of the main phenolic compounds found in blueberries. It is structurally similar to resveratrol but has some unique properties and benefits. Pterostilbene has been shown to support normal cellular growth, glutathione and super oxide dismutase status, and healthy inflammation. It has also been shown to promote DNA integrity and autophagy. 2, 3 There are 2 forms of Pterostilbene: cis and trans. Quicksilver Scientific has selected transpterostilbene for its widely known bioavailability properties.
Longevity Phyto Caps
Serv. Size: 2 Capsules             

 

Serv. Per Container: 30
Amount Per Serv.
% Daily Value
Calories
0
Total Carbohydrates
0g
0%
Total Sugars
0g
**
Includes 0g Added Sugars
0%
Proprietary Curcuminoid Complex, Turmeric Oleoresin, and Turmeric Oil (from Curcuma longa) (rhizomes)- Contains 20mg of Curcuminoids
150mg
**
Proprietary Blend:

 

Quercetin Dihydrate (from Sophora japonica flowers), Resveratrol (from Polygonum cuspidatum root), Trans Pterostilbene Extract, Mint Oils
170mg
**
**Daily Value not established
Other Ingredients:

 

Plant-derived cellulose capsule, tocofersolan, medium chain triglycerides, phospholipids (from purified sunflower seed lecithin)
Suggested Use:
Take 2 capsules by mouth with a glass of water. Repeat to desired dosage or as directed by a healthcare professional. If pregnant, breastfeeding, or planning to become pregnant, consult with a physician before use.
*These statements have not been evaluated by the Food and Drug Administration. This product is not intended to diagnose, treat, cure or prevent any disease.

Information provided by this website or this company is not a substitute for individual medical advice. | ©Pureraw Products, 2022