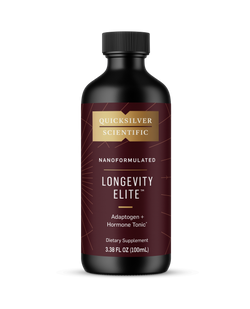 Our master adaptogen and hormone tonic is designed to provide ongoing age optimisation support, targeting sex and stress hormones, while targeting AMPK, sirtuins, and telomeres. Longevity Elite's advanced nanoemulsion formula blends premium sourced adaptogenic herb extracts and isolates and the key hormone precursor pregnenolone. 
Powers Longevity & Healthspan – Time-honored herbs work elegantly to support your influential HPA axis, a network of endocrine glands, hormones, and neurons that regulate determining factors for healthspan.
Supports Hormonal Balance – Hormone imbalance is a primary driver of aging. This formula includes the "mother hormone" pregnenolone — a powerful precursor in the creation of all human sex and stress hormones — and the support you need for aging well.
Supports Stress Resilience – The adaptogen blend in Longevity Elite™ is designed to support the adaptive stress response, giving your body more resilience in the face of occasional life stressors and the agility to return seamlessly to a "rest and digest" state.
Supplement Facts
Serv. Size: 5 mL (1 tsp.)
Amount
% Daily
Serv. Per Container: 20
Per Serv.
Value
Pregnenolone
10mg
**
Astragaloside IV extract (Astragalus membranaceus root)
10mg
**
Cycloastragenol extract (Astragalus membranaceus root)
10mg
**
Proprietary Blend: He Shou Wu (Fo-ti) root extract (Polygonum Multiforum), Zhi Gan Cao root extract (Chinese honey-prepared licorice)(Glycyrrhiza uralensis), GS15-4® Fermented Korean Panax Ginseng Extract, Ginseng Plus® Panax Notoginseng root extract, Ashwagandha root extract (Withania somnifera)
1000mg
**
**Daily Value not established
Other Ingredients:
Glycerin, Water, Ethanol, Tocofersolan, Phospholipids (from purified sunflower seed lecithin), Medium Chain Triglycerides, Natural Citrus Oils, Natural Mixed Tocopherols, Natural Cinnamon Bark Oil
Take 1 teaspoon by mouth. Hold in mouth 30 seconds before swallowing. Best taken on an empty stomach at least 10 minutes before meals. If pregnant, breastfeeding, or planning to become pregnant, consult your physician before use.
*These statements have not been evaluated by the Food and Drug Administration. This product is not intended to diagnose, treat, cure or prevent any disease.
Information provided by this website or this company is not a substitute for individual medical advice. | ©Pureraw Products, 2022