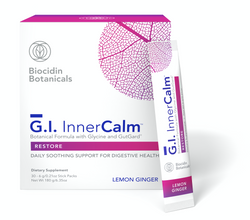 Botanical formula with Glycine and GutGard® to support gut health*

G.I. InnerCalm™ is a clinician-crafted gut powder that offers soothing support for the gut and mind.* A unique blend of proven botanicals and nutrients, it promotes a healthy gut lining and helps manage occasional heartburn, bloating, and gas.* Plus, G.I. InnerCalm™ provides restorative mood and sleep support.*
G.I. InnerCalm™ Benefits
Supports digestive health and stomach-lining integrity*

Helps manage occasional heartburn, gas, and bloating*

Promotes healthy gut motility and regularity*

Contributes to a healthy nervous system, mood, and sleep*

Supports a healthy stress response*

Antioxidant activity supports a healthy inflammatory response*
G.I. InnerCalm™ Features
Standardized botanicals contain a guaranteed percentage of active constituents

Contains proven ingredients at clinically researched levels for maximum benefit

Glutamine-free to avoid neurological irritation experienced by some patients

Carefully selected prebiotics will not aggravate dysbiosis

Contains glycine to support digestion, protein synthesis, and connective tissue* 

Formulation includes select botanicals and glycine to support mood and sleep*
G.I. InnerCalm™ is a gut powder with broad benefits. It promotes gastrointestinal and nervous system health and helps manage the discomfort associated with occasional heartburn, bloating, and gas.* Simple, soothing support for the gut and mind.* And it tastes so good, you'll actually look forward to taking it!
A plant-focused formulation, G.I. InnerCalm™ combines botanicals and other proven nutrients at evidence-based levels. The delicious powdered drink contains glycine, GutGard® deglycyrrhizinated licorice (DGL), and PepZin GI™ (zinc L-carnosine), all of which have been shown to support healthy gut mucosa.* Their activity is augmented by additional herbal ingredients, resulting in an environment that allows the body's innate wisdom to flourish. 
G.I. InnerCalm™ contains glycine instead of glutamine. Why? Because glycine offers support for gut integrity – with the added benefit of calming both the gut and the nervous system.*
Suggested Use
Add 1 stick pack daily to 8 ounces (0.24 L) of water. Mix well. 30 sticks total. 
Warning: Consult your physician before using any supplement, especially if you are pregnant, nursing, have a medical condition, or are taking medication. Discontinue use should adverse reactions occur. Keep out of reach of children. 
Ingredients
Proprietary Blend: L-glycine, Chamomile flower extract, Lemon balm leaf‡, Quercetin, GutGard® Licorice root extract, Aloe vera leaf extract‡, Ginger root extract, PepZin GI™ (Zinc L-Carnosine) 
Other Ingredients: Natural flavor, Citric acid, Monk fruit, Microcrystalline cellulose
‡ Organic Ingredient
*These statements have not been evaluated by the Food and Drug Administration. (FDA) These products are not intended to diagnose, treat, cure or prevent any disease.