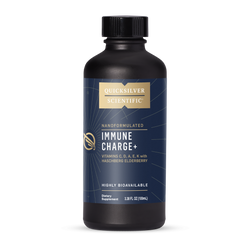 First-Line Immune Support
A potent blend for fasting-acting support against seasonal immune challenges. Standardized Haschberg elderberry and high doses of vitamins C, A, D, E, and K1/K2 combine to help strengthen the body's natural defenses when you need them most.*

Immune Intensive – Can be taken for regular or intensive use as directed by your healthcare practitioner. Includes a powerful 2 mg vitamin C, 10,000 IU vitamin D, 25,000 IU vitamin A per shot to support a healthy immune response.*
Aid for Health Disruptions – In traditional herbalism, elderberry has been used to support immune defenses and common health disruptions.*
Support Respiratory Health – Vitamin C supports lung cells to aid respiratory health. Vitamin E helps safeguard delicate cell membranes.*
Rapid Effect – Our advanced liposomal technology bypasses the typical absorption barriers of these key ingredients and begins circulating in the body as soon as it hits the tongue.*
Supplement Facts
Serv. Size: 10 mL (2 Tsp)
Amount
Daily
Serv. Per Container:10
Per Serv.
Value
Vitamin A (as Palmitate)
6250mcg
694%
Vitamin C (as Sodium Ascorbate)
1667mg
1852%
Vitamin D (as Cholecalciferol)(D3)
208mcg(8333IU)
1040%
Vitamin K (as K2 (MK7), K1 (phytonadione))
875mcg
729%
Sodium (as Sodium Ascorbate)
208mg
9%
ElderCraft® European Black
Elderberry Extract (Sambucus nigra L.),
(1 tsp contains 2.65 grams of black elderberry herb equivalent)
167mg
**
DeltaGOLD® Tocotrienols
33mg
**
**Daily Value (DV) not established
Other Ingredients:
Water, Glycerin, Ethanol, Phospholipids (from purified sunflower seed lecithin), Vitamin E (as Tocofersolan), citric acid, and natural citrus oils.
Take 1 tsp (5 mL) daily, or as directed by your healthcare professional.
*These statements have not been evaluated by the Food and Drug Administration. This product is not intended to diagnose, treat, cure or prevent any disease.