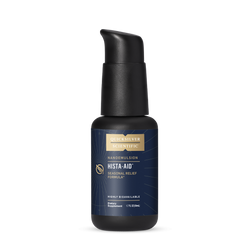 This elegant formula can provide support for seasonal sufferers.
Can help inhibit excess histamine release
Can support the body's own master antioxidant switch
Can assist the body's ability to break down histamine
Mast cells play a powerful role in allergies. Flavonoids are polyphenolic plant compounds that can inhibit mast cell activity and resulting histamine release. Two of the most effective flavonoids are quercetin and luteolin.
Vitamin C can support normal immune system function and diamine oxidase (DAO), an enzyme that metabolises and inactivates excess histamine.
A key centerpiece of this innovative formula is its novel focus on Nrf2, our body's master antioxidant switch, which regulates over 200 genes involved in detoxification. Quercetin have been shown to help support Nrf2 activity.
Because the uptake of the molecules in this formula can be limited by a breakdown in the digestive tract, or in the case of Vitamin C, by gastrointestinal saturation, Dr. Shade developed our NanoEmulsified Hista-Aid. Liposomal delivery systems have been shown to lead to more immediate effects and more stable plasma concentrations. In addition to exceptional absorption rates, small liposomal and nanoemulsified particles enhance lymphatic circulation, helping to bypass digestive enzymes and break down in the liver.
Quicksilver Delivery Systems® utilises modern science to unleash the curative power of nature. With the world's most advanced phospholipid delivery systems, Quicksilver Scientific supplements can help to nourish your cells with phosphatidylcholine as they deliver their core effective ingredients faster and more efficiently.
Suggested Use: 
Each 1 mL of NanoEmulsified Hista-Aid™ delivers 85 mg of Quali™-C Vitamin C (from European Sodium Ascorbate) , 11 mg of sodium (as Sodium Ascorbate) 8 mg of quercetin dihydrate, 10 mg of luteolin extract, 60 mg of phospholipids from purified sunflower seed lecithin. A serving size is 2 pumps. Each bottle contains 50x 1ml servings.
Store this product at room temperature - Do Not Refrigerate.
These statements have not been evaluated by the Food and Drug Administration. This product is not intended to diagnose, treat, cure, or prevent any disease. If pregnant, consult a physician before use. Use within 60 days of opening.