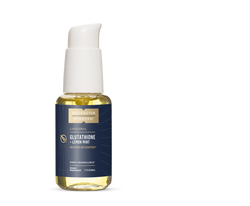 Body detoxifier— aims to eliminate toxins
Can support healthy ageing
Can support a healthy immune system
Can support energy levels
Glutathione is one of the body's most powerful detoxifier. It can support healthy immune function and can neutralise a broad spectrum of free radicals. With the power of Quicksilver Delivery Systems®, our Liposomal Glutathione offers much more rapid and complete uptake than non-liposomal alternatives.
As a master detoxifier and the body's main endogenous antioxidant, glutathione can bind toxins and may help remove them from the body. Consequently, glutathione can protect our cells from damage caused by free radicals, peroxides, and heavy metals, and can improve metabolic energy. In addition, glutathione can play a large part in the health of our immune system.
Because most oral glutathione breaks down in the stomach before even reaching cells, Dr. Shade developed our Liposomal Glutathione. Liposomes protect the core ingredients from the digestive system and increase their uptake and transport. As a result, Liposomal Glutathione is a highly effective way to supplement glutathione.
Quicksilver Delivery Systems® utilises modern science to unleash the curative power of nature. With the world's most advanced phospholipid delivery systems, Quicksilver Scientific supplements can help to nourish your cells with phosphatidylcholine as they deliver their core effective ingredients faster and more efficiently.
Supplement Facts

Serving Size: 0.33ml (2 pumps)

Servings Per Container:

 90
 

Amount Per Serving

% DV

Sodium
7 mg
0.3%
Opitac™ Glutathione
100 mg
**
Phosphatidylcholine (from purified sunflower seed lecithin)
84 mg
**
** Daily Value not established.
Other Ingredients: Water, Glycerin, Ethanol, Vitamin E (as Tocofersolan), Sodium Hydroxide, Natural Citrus and Mint Oils
Suggested Use: Take 2 pumps by mouth twice daily. Hold in mouth 30 seconds before swallowing. Repeat to desired dosage or as directed by healthcare professional. Take on empty stomach, at least 10 minutes before meals. May be stirred into small amount of water.
Topical Use: Apply a thin layer to clean skin (avoiding eyes) and leave on at least 10-15 minutes.
If pregnant, consult physician before use.
Use within 30 days of opening.
Please Note: Heat Sensitive - Refrigerate upon receipt.
These statements have not been evaluated by the Food and Drug Administration. This product is not intended to diagnose, treat, cure, or prevent any disease.