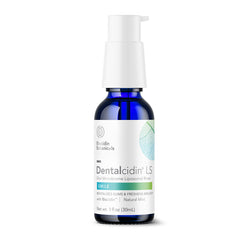 Key Benefits of Dentalcidin™LS
Liposomal Oral Care Solution
Microorganisms and bacterial biofilms cause a number of oral health challenges. Use of the broad-spectrum botanicals in Dentalcidin™ can assist in removing biofilms and plaque, and is an excellent way to promote and maintain healthy teeth and gums. Dentists also recommend concurrent use of Dentalcidin™LS as an oral rinse for increased support where needed.
Co Q10 and Quercetin support oral tissues and help reduce inflammation and speed repair
Broad-spectrum botanicals and essential oils including clove and myrrh fight biofilms, plaque, and mouth odours
Free from sugar, gluten, fluoride and artificial flavourings and colours
Research indicates results in as little as 4-8 weeks of use
Pleasant tasting, perfect for both children and adults
Suggested Use
Swish using 2 pumps for 1 - 2 minutes then expel. Use 2 - 3 times per day after brushing with Dentalcidin™ Toothpaste for a complete program and ongoing maintenance.
Ingredients
Phospholipids (from purified Sunflower Seed lecithin), Biocidin® Botanical Combination*, Quercetin, Coenzyme Q10, Myrrh, Clove Oil, Peppermint, purified water, ethanol, Vitamin E (as Tocofersolan and natural mixed tocopherols).
Biocidin® Ingredients
Bilberry extract (25% anthocyanosides), Noni, Milk Thistle, Echinacea (purpurea & angustifolia), Goldenseal, Shiitake, White Willow (bark), Garlic, Grapeseed extract (min. 90% polyphenols), Black Walnut (hull and leaf), Raspberry, Fumitory, Gentian, Tea Tree oil, Galbanum oil, Lavender oil (plant & flower), Oregano oil (plant & flower).
Other Ingredients: Vegetable Glycerin, Alcohol Less than 5% (potato and or cane source). Product contains no allergens such as milk, eggs, yeast, corn, soy or wheat. Free of any synthetic ingredients, colours, additives or excipients. No animal testing. 100% vegetarian/vegan formula. Certified Organic or wild-crafted sources used whenever possible.
*These statements have not been evaluated by the Food and Drug Administration. (FDA) These products are not intended to diagnose, treat, cure or prevent any disease.