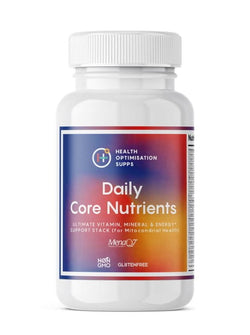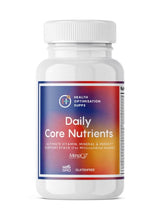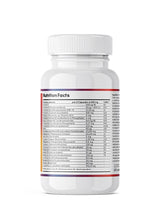 60-Day supply of Daily Core Nutrients
The ALL-IN-ONE, it's much more than a multivitamin. It's a clean-source, full-spectrum multi-nutrient stack. If there's one supplement that is a must-have, it's this one here.

Provides high-quality, highly-absorbable micronutrients
Helps with energy metabolism and mitochondrial health
Balances liver Phase I & II liver detoxification
Supplies all methyl donors such as methyl-folate, B12, Choline and Betaine (that help with MTHFR/COMT genetic snp)
Supports bile production
Helps with sustainable fat loss (contains carnitine)
Supplies core building blocks for strong bones and connective tissue (D3/mag/K2)
Not only has our formula gone through years of rigorous testing for optimal combinations and synergistic dosing, but it has also taken into consideration genetic flaws like the MTHFR snp, vitamin D receptor blockages, imbalances in liver functions, inflammation, insulin resistance, and even individual oxidative stress factors. Based on these findings, we've hand-picked the precise nutrients to create a mix that optimises these core biochemical functions in the body and makes up for deficiencies in the diet. It was designed by biohackers and built by doctors and formulators with a single goal—to provide the key building blocks to optimal health in one product.
Some of the signs of deficiency in core nutrients like vitamins, minerals, and trace minerals include:
Feeling tired and lack of energy in the morning (even after a good night of sleep)
Dry or inflamed skin (acne), brittle hair and weak nails
Poor concentration and a lack of focus
Poor immune function and proneness to recurrent infections over longer periods of time (even in summertime).
Irregular bowel movements.
Anxiety, ongoing negative thoughts and not being able to relax
Not able to fall asleep at night even if tired, poor sleep.
With Daily Core Nutrients, you know exactly what you are taking. Get all the vitamins, minerals, and energy support your body lacks from just 2 capsules a day.
INGREDIENTS 
Trimagnesium citrate; hydroxypropyl methylcellulose (capsule shell); L-carnitine tartrate; calcium ascorbate; choline bitartrate; nicotinamide; Ubiquinone; D-calcium pantothenate; zinc gluconate; betaine hydrochloride: Vitamin E (mixed tocopherols and tocotrienol tocopherol, maltodextrin, modified food starch); copper
(I1)-D-gluconate; pyridoxal-5-phosphate: sodium riboflavin-5-phosphate; vitamin K2 mix (bulking agent: microcrystalline cellulose, medium-chain-triglycerides, vitamin K2 as menaquinon-7); thiamine HCL; vitamin A (sucrose, corn starch, thickener: Gum Arabic, retinyl acetate, antioxidant: DL-alpha tocopherol, anti-caking agent: tricalcium phosphate]; manganese (Il)-gluconate; Vitamin D3 cholecalciferol (modified food starch, maltodextrin, sucrose, vegetable oil (corn), antioxidant: alpha-tocopherol, sodium ascorbate; anti-caking agent: silicon dioxide; vitamin D3); (6S)-5-methyltetrahydrofo-late-glucosamine; L-selenomethionine; methylcobalamin; chromium (Ill)-chloride; potassium iodide; sodium molybdate; D-biotin.
SUGGESTED USE 
Take 2 capsules daily or as recommended by a health practitioner.
Keep out of reach of children. Do not exceed recommended dose. This product is a food supplement and is not a replacement for a healthy and balanced diet and/or lifestyle. If you are undergoing treatment for a medical condition or if you are pregnant or lactating, please consult your medical practitioner first.
*The above statements have not been evaluated by the Food and Drug Administration. This product is not intended to diagnose, treat, cure or prevent any disease.

Information provided by this website or this company is not a substitute for individual medical advice. | ©Pureraw Products Limited 2022