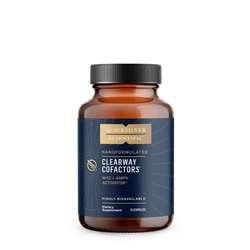 May maximise your body's detoxification pathways
Can support heavy metal clearance
Can support your body's glutathione system
This proprietary blend of concentrated botanical extracts, enzymes and vitamins contains unique cofactors that may support detoxification. A diverse array of nutrients is designed to activate your metal detoxification pathways and stimulate your antioxidant enzymes.
The potent polyphenols in this proprietary formula can help to offset heavy metal exposure and may support your glutathione system. They can also help to activate your body's master antioxidant 'switch', called Nrf2, which regulates hundreds of genes involved in detoxification.
The botanicals include an Indian superfruit; herbs that are known to be neuroprotective and neuroregenerative; fruits and barks with an impressive ability to support glutathione synthesis. In addition to the comprehensive cellular protection delivered by the antioxidant components of this formula, high-potency nattokinase is included to help break down biofilms, which can be associated with colonisation of species such as candida. Biofilms may impair detoxification and absorption of nutrients.
Every 3 capsules of Clear Way Cofactors contain a potent proprietary blend of highly concentrated extracts of Haritaki, Pine Bark, Pomegranate, Gotu Kola, Bacopa, Dandelion Root, Bladderwrack, and Nattokinase, in addition to R-Lipoic Acid, vitamins B1, B5, B6, and selenium.
If pregnant, consult a physician before use.
Store this product at room temperature. Do not refrigerate. 
These statements have not been evaluated by the Food and Drug Administration. This product is not intended to diagnose, treat, cure, or prevent any disease.