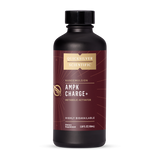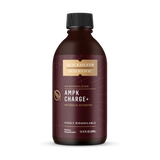 Supports metabolic balance and flexibility
Tap into the benefits of intermittent fasting and carb restriction with or without fasting protocols. AMPK Charge+ helps activate the AMPK pathway, which is critical for energy metabolism, fat breakdown, and healthy aging.*
What Is the AMPK Pathway? AMPK is the main metabolic pathways activated by fasting and encourages energy generation, fat breakdown, a healthy inflammatory response, and normal glucose levels and insulin activity. It supports longevity by increasing autophagy, which cleans out old and damaged cells to make room for new, healthy cells.*
Access the Body's Fat Stores – The AMPK pathway helps your body access fat stores, turning fat into ketones. AMPK Charge+™ facilitates this process by flipping your master "metabolic switch" from burning primarily sugar for energy to fat.*
Use Alone or With Fasting – This bioavailable blend of quercetin, milk thistle, resveratrol, berberine, and cinnamon is safe to take daily and complements intermittent fasting and keto or carb-restricted diets (and may allow for more flexible fasting protocols). 
100 mL
Serv. Size: 5 mL (1 tsp.)
Amount
Daily
Serv. Per Container: 20
Per Serv.
Value
Proprietary Blend

 

Phospholipids (from purified sunflower seed lecithin), Diindolylmethane, Quercetin Dihydrate (from Sophora japonica flower), Milk Thistle Seed Extract (80% Silymarin), Resveratrol (from Polygonum cuspidatum root), Berberine HCL (from Phellodendron amurense bark), Cinnamon Bark Oil

415mg
**
**Daily Value (DV) not established
Other Ingredients:
Glycerin, water, ethanol, medium chain triglycerides, vitamin E (as tocofersolan and natural mixed tocopherols), natural citrus oils, natural flavoring and propolis extract
Suggested Use: Take 1 teaspoon by mouth twice daily and hold for 30-90 seconds before swallowing. May be mixed into water. Best taken on an empty stomach at least 20 minutes before meals. If pregnant, consult a physician before use. Store at room temperature. The supplement is safe to take daily and complements intermittent fasting and ketogenic or carb-restricted diets.
*These statements have not been evaluated by the Food and Drug Administration. This product is not intended to diagnose, treat, cure or prevent any disease.