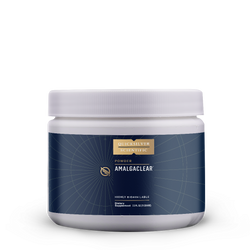 Detox Support with Modified Citrus Pectin & Silica Extract (73g)
Support the body during removal of dental fillings.*

This product helps fuse potentially harmful compounds that may be released during and after the removal of fillings, helping to prevent reabsorption.*

Gut Soothing – The prebiotic fiber acacia gum helps soothe and fluidize the gut to address potential mild constipation often caused by binders.*

Antioxidant Rich – Buffered vitamin C is a universal antioxidant that helps protect the body from the effects of free radicals and promotes immune function. Buffered to help minimize any GI discomforts associated with vitamin C.*
Support the body in detoxifying and removing mercury and other heavy metals during removal of "silver" dental amalgams.*
Metals Removal – Proper detox requires minimizing redistribution and reabsorption of mobilized metals. With the help of IMD® and Modified Citrus Pectin, this product helps bind potentially harmful compounds that may be released during and after the removal of "silver" dental fillings, helping to prevent reabsorption.
Gut Soothing – The prebiotic fiber acacia gum helps soothe and fluidize the gut to address occasional constipation often caused by binders.
Antioxidant Rich – It is widely known that, buffered vitamin C is a universal antioxidant that helps protect the body from the effects of free radicals and supports immune function. Buffered to help minimize any GI discomforts associated with vitamin C.
Amalgaclear ®
Serv. Size: 1 tsp (3.64g)
Amount
% Daily
Serv. Per Container: 20
Per Serv.
Value*
Quali™- C Vitamin C
(from European Sodium Ascorbate)
784mg
871%
Sodium
100mg
4%
Dietary Fiber
1g
4%
Silica Extract†
100mg
**
Proprietary Blend:
Efistab™, AA (Acacia Gum),PectaSol-C® Modified Citrus Pectin
2658mg
**
**Daily Value (DV) not established
*The % Daily Value tells you how much a nutrient in a serving of food contributes to a daily diet.Q™ is a trademark of DSM2,000 calories a day is used for general nutrition advice.Q™ is a trademark of DSM
†IMD (Proprietary thiol-functionalized silica)
WARNING:

 

This product contains a chemical known to the State of California to cause birth defects or other reproductive harm.
Mix 1 rounded teaspoon into 8 ounces of water once per day or as directed by a healthcare professional. Take 30 minutes before or 2 hours after meals or medications. If pregnant, breastfeeding, or planning to become pregnant, consult a physician before use.
*These statements have not been evaluated by the Food and Drug Administration. This product is not intended to diagnose, treat, cure or prevent any disease.

Information provided by this website or this company is not a substitute for individual medical advice. | ©PURERAW 2022