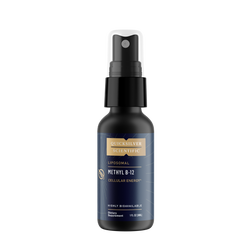 Supports both methylation and detoxification
Known to increases energy metabolism
Quick acting and easily absorbed
Includes nutrients to support the liver
B vitamins are the ultimate multitaskers - all eight of the B's work together to help facilitate critical biochemical reactions throughout your entire body. They can be necessary for energy, metabolism, detoxification, immunity, balanced mood, cognitive function and gut health. Providing the metabolically active forms help ensure you will always have a steady supply.
The stresses of modern life, poor diet, digestive disturbances and medications can deplete your B vitamins. This unique formula emphasises bioactive molecules including the metabolically active forms of B2, folate, and B12, as well as trimethylglycine (TMG), an active metabolite of choline.
Our Quicksilver Delivery Systems improve upon liposomal and emulsification technology with smaller, more stable particles made from the highest-grade ingredients available. In addition to exceptional absorption rates, these very small liposomal and nanoemulsified particles enhance lymphatic circulation of nutrients and intracellular delivery. The phospholipids, inherent in the liposomal and nanoemulsified formats, nourish cell membranes, promoting proper function for the absorption of nutrients and the excretion of cellular waste products and toxins.
Supplement Facts

Serving Size:

 33ml (2 pumps)

Servings Per Container:

 90 servings
 

Amount Per Serving

%Daily Value

Methylcobalamin

1000 mcg
41667%

Phosphatidylcholine

(from purified sunflower seed lecithin)

32 mg
**
** Daily Value not established.
Other Ingredients: Water, Glycerin, Ethanol, Vitamin E (as d-alpha tocopheryl polyethylene glycol 1000 succinate and as natural mixed tocopherols)
Suggested Use: Take 1 to 2 pumps by mouth once daily. Hold in mouth 30 seconds before swallowing. Repeat to desired dosage or as directed by healthcare professional. Take on empty stomach, at least 10 minutes before meals. May be stirred into small amount of water.
Store this product at room temperature. Do not refrigerate. Use within 60 days of opening.
If pregnant, consult a physician before use.
These statements have not been evaluated by the Food and Drug Administration. This product is not intended to diagnose, treat, cure, or prevent any disease.