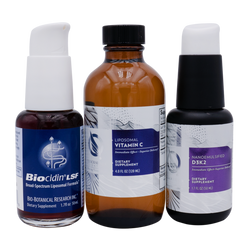 PURERAW
IMMUNE SUPPORT KIT
This trio of formulas supports a robust immune system, including healthy microbial balance, inflammatory response, barrier integrity, and bodily defenses. 
Biodicin® LSF is a proprietary combination of botanicals formulated to address a healthy microbial balance and the biofilms which often form around communities of microbes impeding their successful eradication. The botanicals and essential oils present within this powerful, liposomal blend support broad-spectrum balancing action and enhance the body's ability to tackle a wide variety of microbes. Biocidin® LSF may also assist in disrupting biofilms, which are associated with persistent and difficult to manage imbalances in commensal flora.
Liposomal Vitamin C provides 1000 mg of vitamin C per teaspoon. This universal antioxidant is vital to many aspects of immune function. It helps stimulate the production and function of white blood cells, protects immune cells from oxidative damage, supports physical barrier integrity, and is an essential cofactor in many enzymatic reactions in the body. Vitamin C delivered as a liposome significantly increases its bioavailability. Greater bioavailability means higher plasma concentration levels of this immunity-supporting nutrient. 
Nanoemulsified D3K2 is a blend of 2500 IU vitamin D3 and 90 mcg of vitamin K2 per pump. Vitamin D is known to be one of the most critical nutrients for overall wellness, with a powerful influence on immune health. Together vitamin D and vitamin K help strengthen normal immune function, including the production of white blood cells and the fortification of host defences.