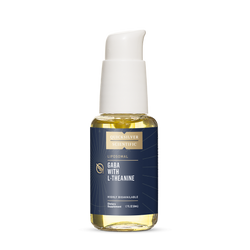 GABA (Gamma-aminobutyric acid) is an amino acid derivative produced in the human body that functions as a neurotransmitter in the central nervous system. Neurotransmitters are chemical messengers that carry messages between cells.
GABA has an inhibitory effect on neurons, helps balance our nervous system and supports a calm mood. Unlike powdered GABA, which is poorly absorbed and does not easily cross the blood brain barrier, Quicksilver Scientific's liposomal GABA produces a very quick and powerful effect. Try this "busy-ness" antidote once and you will know!
L-Theanine is an amino acid found naturally in tea that produces calming effects in the brain. Just as meditation, massage or aromatherapy quiets the mind and body, theanine plays a role in inducing the same calm feeling of well-being without drowsiness.
Quicksilver Scientific´s liposomal technology provides unparalleled bioavailability and is designed to bring the power of intravenous delivery into convenient oral supplements.
Our Quicksilver Delivery Systems improve upon liposomal and emulsification technology with smaller, more stable particles made from the highest-grade ingredients available. In addition to exceptional absorption rates, these very small liposomal and nanoemulsified particles enhance lymphatic circulation of nutrients and intracellular delivery. The phospholipids, inherent in the liposomal and nanoemulsified formats, nourish cell membranes, promoting proper function for the absorption of nutrients and the excretion of cellular waste products and toxins.
Supplement Facts

Serving Size: 2 mL (4 pumps)

Servings per container: 25

Amount Per Serving

% Daily Value

GABA (Gamma amino butyric acid)

250mg

**

L-Theanine

100mg

**

Phosphatidylcholine(from purified sunflower seed lecithin)

134mg

**

**Daily Value not established
Other Ingredients: Water, Glycerin, Ethanol, Vitamin E (as tocofersolan and natural mixed tocopherols)
How To Use: Take 1-4 pumps or more 2-4 times per day. Hold 30 seconds before swallowing. May also be stirred into water. Best taken on an empty stomach at least 10 minutes before meals.
Use within 60 days of opening. Store at room temperature.
Not for use by children, pregnant or nursing women.