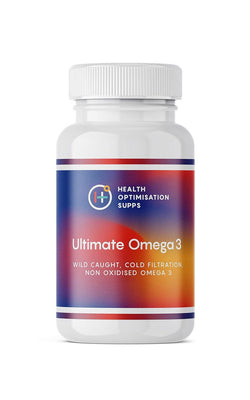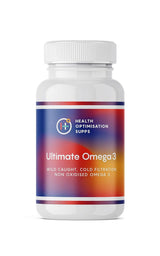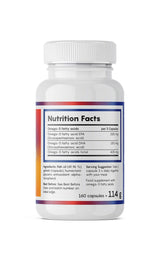 160 soft gels, 2+ month's supply of Ultimate Omega 3
Omega 3 is known to support brain, heart, and hormone health, making this the ultimate supplement.
Sourced from wild-caught fish to ensure you get the best
A good balance of Omega 6 and 3 can be difficult to achieve with diet alone
Independently tested for pollutants, toxins, and heavy metals from the environment
100% natural ingredients with no fillers and additives
Pure and potent, wild-caught, bioavailable cold-pressed EPA and DHA Omega 3 fish oil for the ultimate brain, heart, and hormone support.
Omega-3 is known to be critical for the healthy functioning of your brain, heart, hormones, nerves, and overall health. It is said to have the power to lower blood pressure, support healthy circulation, improve cognitive performance, and mood and even keep your skin looking clear and supple as you age.
Omega-3 Fatty Acids — A must for a vibrant body and mind
Fatty acids (fats) are kind of a big deal, every living cell in your body has a membrane that is made out of the fats that you consume, so it's important to consume only the best. It has been said that your body needs them to produce signalling molecules called eicosanoids, which help your immune, pulmonary, cardiovascular, and endocrine systems work properly. Omega-3 fatty acids are known to provide the starting point for making hormones that regulate blood clotting, contraction and relaxation of artery walls, and inflammation.
These cell membranes govern which nutrients get into your cells, and what toxins get out of your cells, and this determines how efficiently your body produces energy. DHA is the only lipid that has been found to turn sunlight into a DC current, which provides energy for our mitochondria (our cellular batteries).
Why you should add an Omega 3 supplement to your diet
Omega 3 is an essential fatty acid found almost exclusively in fish and seafood. It's called essential because it is known to be critical to the normal functioning of our health, but our body cannot make it on its own, meaning we have to get it from food or supplementation, or both.
Industrialised food practices have flooded the food supply with Omega 6, while Omega 3s have slipped away. Our bodies need both Omega 6 and Omega 3, in a balanced ratio of 3:1, which is hard to achieve even for the most health-conscious of us.
Regular supplementation with high-quality omega-3 fish oil containing EPA and DHA can help maintain the right fatty acid ratio, which can help to support a wide range of health benefits:
Healthy heart and hormone balance: EPA and DHA have anti-inflammatory properties, which may reduce the risk of chronic diseases such as heart and gum disease, as well as improve autoimmune conditions like rheumatoid arthritis.
Lowers blood pressure and supports circulation: Both EPA and DHA have been found to contribute to the maintenance of normal blood pressure, support circulation, and lower your risk of heart attack and stroke.
Enhanced cognitive performance, focus, memory, and mood: The human brain is made up of nearly 60% fat, therefore it is essential for optimal brain function and the prevention of Alzheimer's disease. Omega 3s may also act as a natural anti-depressant by raising levels of serotonin in the gut, supporting a good mood.
Supports healthy skin, bones and joints: DHA is a structural component of cell membranes, which make up a large part of your skin. Healthy cell membrane can result in soft, moist, supple, and wrinkle-free skin. EPA can benefit the skin by managing oil production and hydration levels, as well as preventing hyperkeratinisation of hair follicles and inflammation associated with acne.
Essential during conception, pregnancy, and breastfeeding: Maternal intake of omega 3s can be essential to normal eye and brain development of the foetus. Furthermore, getting enough DHA during pregnancy can be essential to reducing the risk of early preterm birth.
Potential benefits of Omega-3 Fatty Acids:
Reduce the risk of cardiovascular disease and stroke
Lower blood pressure
Support hormone balance
Support eye health
Improve bone and joint health
Reduce symptoms of metabolic syndrome
Support healthy brain function
Fight depression and anxiety
Enhance cognitive performance and focus
Support radiant, supple skin and wrinkle-free skin
Reduce inflammation
Support foetal growth and development
Support healthy ageing
Independently Tested for Quality and Purity
All Health Optimisation Supplements are tested for environmental pollutants and heavy metals to ensure they are of the purest quality and do not contain toxins, hormones, and antibiotics.
100% Natural
Fresh, pure, and free from additives, toxins, antibiotics, and hormones
Independently tested for environmental pollutants, toxins, and heavy metals
Cold-pressed and free from oxidised fats
Packaged in an opaque bottle and kept cool during transportation to prevent oxidation
INGREDIENTS
Fish oil (69,96 %); gelatin (capsule), humectant: glycerin; antioxidant: alpha-tocopherol.
As a result, every capsule you take is 100% pure and also:

No Junk or Fillers or GMO
No Sugar or Artificial Sweeteners
No Artificial Flavors, Colors, or Preservatives
No Antibiotics, Synthetics, or Growth Hormones
No Gluten, Soy, and Dairy (Keto and Paleo Friendly)
SUGGESTED USE 
Take 1 capsule 2-3 per day together with your meal.
If you are experiencing inflammation or have overindulged on fried foods, you can take an extra Omega-3 soft gel to balance out your Omega 6 to Omega 3 ratio.
Keep out of reach of children. This product is a food supplement and is not a replacement for a healthy and balanced diet and/or lifestyle. If you are undergoing treatment for a medical condition or if you are pregnant or lactating, please consult your medical practitioner first.
*The above statements have not been evaluated by the Food and Drug Administration. This product is not intended to diagnose, treat, cure or prevent any disease.

Information provided by this website or this company is not a substitute for individual medical advice. | ©Pureraw Products Limited 2022