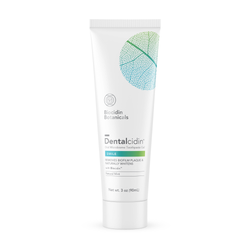 Broad-Spectrum Toothpaste with Biocidin®
Microorganisms and bacterial biofilms cause a number of oral health challenges. Use of the broad-spectrum botanicals in Dentalcidin™ can assist in removing biofilms and plaque, and is an excellent way to promote and maintain healthy teeth and gums. Dentists also recommend concurrent use of Dentalcidin™LS as an oral rinse for increased support where needed.
Key Benefits
Fights plaque and balances oral ecology
Freshens breath, tastes great, and is perfect for children and adults
Free from sugar, gluten, fluoride and artificial flavourings and colours
Easy-to-use pump dispenser
For additional support for healthy gums, swish with Dentalcidin™LS
With Essential Oils: Tea Tree, Spearmint, Peppermint, Cinnamon, Lavender, Oregano, Galbanum, Clove
Not tested on animals
Suggested Use 
For adults and children 2 years of age and older, use approximately a 1/2 inch ribbon on your toothbrush.
Ingredients
Sorbitol, DI Water & Aloe Vera Gel, Vegetable Glycerine, Zeodent® (Dental Hydrated Silica 113-165) Sodium Lauroyl Sarcosinate, Cellulose Gum, Fresh™ Essential Oil Blend (Spearmint, Peppermint, Tea Tree, Cinnamon, and Clove Bud), Royal Jelly, Simethicone, Sodium Benzoate.
Biocidin® Ingredients: Bilberry extract, Noni, Milk Thistle, Echinacea, Goldenseal, Shiitake, White Willow, Garlic, Grapeseed extract, Black Walnut (hull and leaf), Raspberry, Fumitory, Gentian, Tea Tree oil, Galbanum oil, Lavender oil, Oregano oil.
Other Ingredients: Vegetable glycerin, < 5% alcohol. Gluten free. No added sugars, artificial colouring or flavouring. Not tested on animals. Fluoride free.
*These statements have not been evaluated by the Food and Drug Administration. (FDA) These products are not intended to diagnose, treat, cure or prevent any disease.