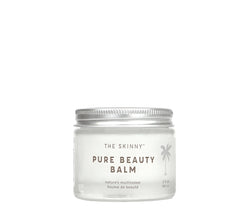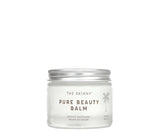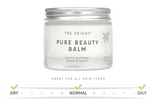 SKINNY & CO.
Pure Beauty Balm
This patented Pure Beauty Balm is micro-filtered twice to make it as non-comedogenic as possible. This travel-size hypoallergenic coconut oil is the perfect size to fit in your handbag or luggage.
The ultimate multitasker, this hydrating and healing balm is able to be used in place of many of the items in your bathroom cabinet. It's not just minimalism, it's sustainability.

Ingredients
Skinny Coconut Oil®
Uses
The ultimate multitasker for every health and body need.
Hydrate - Fragrance-free moisturiser for full-body use.
Heal - Promote healing of minor skin injuries.
Relax - Ideal carrier for your favorite essential oil.
Soothe - Helps relieve chafing, sunburn, and other skin irritations.
Condition - Deep conditioning hair mask and beard oil.
Lubricate - Natural alternative for personal lubrication.